Hi all,
I just have to dedicate this post to a new blogging friend of mine. It is my pleasure to introduce you to....
Priscilla from Thrifty Crafty Girl.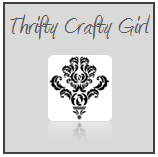 She is a new blogger, but sounds like an old pro. She has become my crafting mentor. She is chock full of creative crafting ideas. From new projects made from scratch to repurposing old things into great new items. She also shares recipes, frugal tips, and stories from her everyday life. I never read her blog without giggling out loud! I totally get her quirky humor dripping in sarcasm.
She is also responsible for helping me finally figure out how to make a button for my blog. She made me an image out of the kindness of her heart, then bing, bang, boom...I finally had my button! Thank you Priscilla!!
Just wait until you see what can be done with toilet paper rolls in
this post
. Or, take a look at these mouth watering
homemade doughnuts
.
So, what are you waiting for? Click on one of the links, or her button and be prepared to see some wonderfully Thrifty Crafty things and be comically entertained in the process.
Enjoy your visit!
Jennifer